Grace SDA Church building at 870 Prospect Avenue, Hartford, CT will be closed for all in-person church services.  Please see below for worship service details.
Please address all mailed correspondence to: 
GRACE SDA CHURCH
PMB#103 OR #103
41 CROSSROADS PLAZA
WEST HARTFORD, CT 06117
---
Please join us as we worship together via:
IN PERSON SERVICE: held on  Sabbath mornings beginning 9:45am at the Faith Congregational Church located at 2030 Main Street, Hartford, CT.  The main doors are open from 9am.
ONLINE SABBATH SERVICES:      
Adult Sabbath School: 9:45AM
Children's Sabbath School: 10:00AM
Divine Worship Service: 11AM
Bible Study Hour: 3PM-4PM
AY Youth Forum: 4:30PM-5:30PM ( now meeting in-person at rotating locations within the district)
Weekly Prayer Meeting: Wednesdays at 7PM
SAVE THE DATE:
Upcoming events will be posted here. 
Prayer Breakfast: Sunday, May 7, 2023 at Christian Fellowship SDA, 36 Gillett Street, Hartford, CT.  See flyer below for more information or click here to see a larger flyer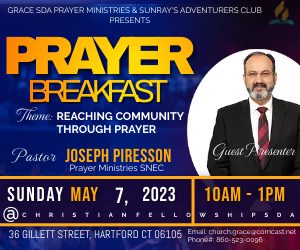 SNEC Camp Meeting 2023:
Fasting & Prayer Service: Sunday, July 2, 2023
Zoom Meeting Information:
Dial (929) 205-6099; Meeting ID: 775 666 1587 
Please remember to mute your phone to eliminate background noises, interruptions, or feedback.  To use the system's mute feature: dial *6   
Welcome to the Grace Seventh-day Adventist Church in Hartford, CT.   
We are a Christian community and would love to have you join our family.   To learn more about what we believe you can visit our About Us page.   Please join us for Bible study, worship, and prayer.
Pastor Keith Miller
Grace SDA Church
Join us this Saturday!
Service times:
Sabbath School: 9:45 am 
Worship Service: 11:00 am